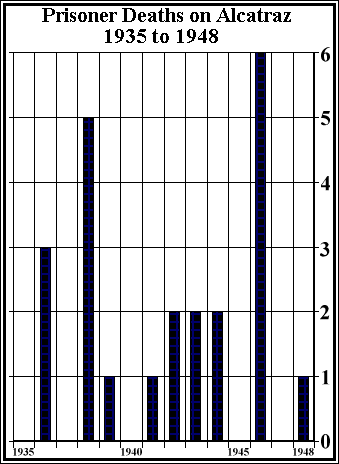 ---
| | | | | | | | | | | | | | |
| --- | --- | --- | --- | --- | --- | --- | --- | --- | --- | --- | --- | --- | --- |
| 1935 | 1936 | 1937 | 1938 | 1939 | 1940 | 1941 | 1942 | 1943 | 1944 | 1945 | 1946 | 1947 | 1948 |
| 0 | 3 | 0 | 5 | 1 | 0 | 1 | 2 | 2 | 2 | 0 | 6 | 0 | 1 |
---
Notes
(1)Developed from Bureau of Prisons data contained in Erwin Thompson's The Rock, p. 415. Precise dates noted above are year ending June 30.
(2)To these numbers should be added the three prison guards who were killed during escape attempts. Officer Royal Cline was killed by Rufus Franklin, Jimmy Lucas and Thomas Limmerick in 1938. Officers Miller and Stites fell during the 1946 Alcatraz Blast-Out. Stites is generally believed to have been accidentally shot by other guards.
(3)Nine of these fatalities died during escape attempts: Joe Bowers (1936); Ted Cole and Ralph Roe (1937 - included in 1938);, Thomas Limmerick (1938); Arthur "Doc" Barker (1939); James Boarman (1943); Bernard Paul Coy, Marvin Hubbard, and Joseph Paul Cretzer (1946). Two other prisoners, Miran Thompson and Sam Shockley were executed in December 1948. They were included in the statistics for the year ending June 30, 1949.
Move on to the next chart: Court-Ordered Releases
Copyright 1997 by Joel GAzis-SAx