---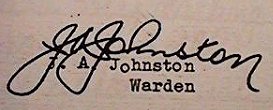 A very prelimary, cursory biography
By Joel GAzis-SAx
Copyright 1999 by Joel GAzis-SAx
---
James A. Johnston was the son of Roman Catholic Irish. Early in the century, he associated himself with Progressive Republicans like Governor Hiram Johnson. When Johnson asked the young chairman of the State Board of Control to act as warden of Folsom Prison, Johnston's experience in penal matters was limited to an investigation of financial improprietry at San Quentin. Though the prisoners greeted him with a long night of screaming and banging, the warden's first order, which some thought naive, was to ban corporal punishment in his prison. He improved conditions at Folsom by developing better ventilation for the cells and by building a new bath house for the convicts. In 1913, Governor Johnson successfully championed many of the young Johnston's reforms and saw them written into law. An immediate result was a fewer number of escape attempts, which meant greater safety for the California public.
The warden went on to manage San Quentin. Here, he developed the system of classification, in which prisoners with extensive criminal records were separated (by sending them to Folsom) from the younger, more inexperienced ones. Johnston's success in reducing the crime rate attracted national attention. Though he resigned to lead a banker's life in 1924, his name appeared at the top of Sanford Bates' list when it came time to choose a warden for Alcatraz.
Over the years of his wardenship and afterwards, Johnston was attacked from some quarters for cruelty. In the film Murder in the First, he is incorrectly depicted as an absentee warden who had his hands full managing three prisons at once! (He only ran Alcatraz.) A 1938 article in the anti-New Deal American Mercury called him a "Torquemada", a grand inquisitor. Jurors in the Henri Young trial called for an investigation of "crimes against humanity". Thomas Gaddis characterized the warden as outright cold-hearted.
A look at Johnston's correspondence and the accounts which have come down to us shows a different, though mixed picture. Johnston took great personal pains to help prisoners and their families cope with Alcatraz life. Many prisoners reported that it was easier doing time on Alcatraz than in other prisons because guards went by the rules: if you didn't break them, they didn't bother you. Convicts were protected from theft and acts of violence. The heightened security tended to create an environment where reform of the hardest of the hard was possible.
If Johnston had any failing, it was in that he did not understand mental illness well enough to deal with it. The 1935 suicide of Edward Wutke, the 1936 suicide of Joe Bowers, the 1941 Henri Young trial, and the 1948 execution of Sam Shockley for his alleged participation in the planning of the 1946 Blast-Out all indicate that the prison's medical screening program was deficient when it came to psychiatric disorders. Sometimes, too, guards broke the rules and beat a prisoner; whether Johnston knew about these violations is uncertain.
---