Alcatraz Custodial Staff
1940
Click on the picture to see a blown-up version
Javascript helpful but not required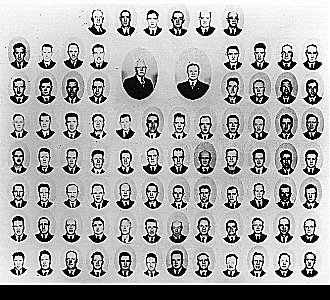 This "class photo" shows the guard staff as it was in 1940.
Warden Johnston and Associate Warden E.J. Miller occupy a prominent spot roughly in the center.
Above them are the guard captains including
Paul Madigan who later became Alcatraz's third warden (top row, far left) and
H.W. Weinhold whose career abruptly ended when he was shot and left for dead
by Joseph Cretzer during the 1946 Blast-Out (top row, far right).
Other notable guards include Phillip Bergen,
who became Captain of the Guards a few years after this photo was taken (2nd row, fourth from the left);
F.E. "Punch-Drunk" Pepper who had to be kept away from the prisoners (7th row, first on the left);
and Joe Steere who, in 1937, rescued Warden Johnston from Burton Phillips (7th row, first on right).
---